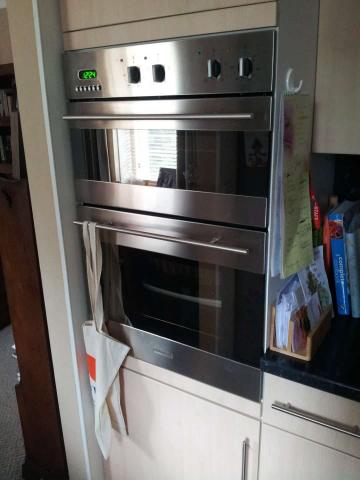 Have you brought and received a new cooker and need it fitting? or a company has been paid to install it however when they turn up, they say
Your installation is not how they expected it to be, or is unsafe for them to proceed?
Don't panic we hear this all the time and it is normal, not all electrics are installed the same. Many of them installed by kitchen fitting companies and not up to current regulations.
---
Or has your oven got a little noisy and sounds like it's on the way out? Let us pop over to see your oven and we can research for a replacement, arrange collection or delivery and installation of the new appliance. We'll even take away your old cooker for recycling!
Make sure you change your oven early and avoid the Christmas rush, this happens every year. December is our busiest month, and also a time when stocks are scarce! To be safe, why not call us today for a quotation
Customers always say
I wish we had done it sooner! we have been struggling on with this inherited one since we brought the house
Don't worry – we'll put your mind at rest, and at Tack Electrical we see this as a straightforward, everyday job.
---
Service